Author: Source: Shandong Province Electric Power Enterprise Association Published time: May 20, 2016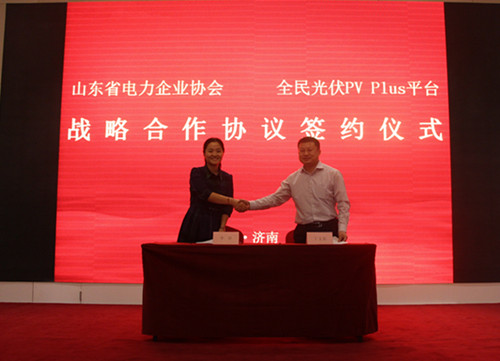 Where the agreement was signed
On May 18, ShThe signing ceremony took place in Jinan, attended by Peng Wencheng (deputy chief of Market Supervision Section at Shandong Energy Regulatory Office under the National Energy Administration), Xu Zhen (vice chairman of Shandong Province Federation of Social Organizations and vice chairman of Shandong Electric Power Enterprise Association), and Ding Wenlei (chairman of PV Plus), among others. The ceremony was presided over Li Ting, secretary general of Shandong Electric Power Enterprise Association.andong Province Electric Power Enterprise Association signed a cooperation agreement with PV Plus.
With more than 700 member institutions, Shandong Electric Power Enterprise Association has completed massive and extraordinary work by adhering to its mission to serve its members. With the signing of this agreement, both the Association and PV Plus will integrate their information resources and leverages the advantages of both platforms in order to boost the integrated development of both the traditional power industry and the photovoltaic industry.
The PV Plus platform aims to promote the investment and development of PV power stations nationwide, integrate PV projects with the Internet, investment and financing, insurance, power end-users, etc., to form an Internet-based trading platform, expediting the process of "PV for All".