Author: Source: Shandong Province Electric Power Enterprise Association Published time: March 23, 2016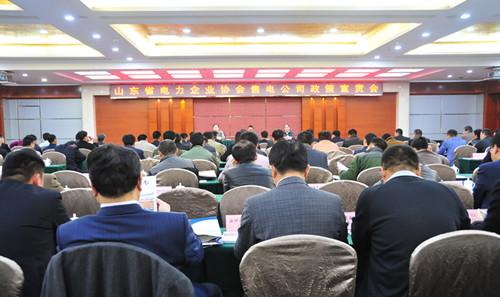 On March 23, Shandong Province Electric Power Enterprise Association held a power sales company policy communication meeting in Jinan in order to better communicate and implement the key messages of the Opinions of the State Council and CPC Central Committee on Deepening Power System Reform (ZF Doc. No. 9 (2015)) and its supporting documents, explore the development opportunity for electric power enterprises in a new situation, and share the "reform dividends". Attended by more than 150 heads of relevant power sales enterprises from the province, the meeting was attended by Xu Zhen (secretary general of the Association), who also spoke at the meeting.
In his speech, Xu Zhen made a presentation of the basics and main work of the Association, which continuously innovated its operational philosophy in recent years to serve the electric power industry in Shandong for its healthy and sustainable development. He pointed out that this training session had two purposes: 1) to reach consensus, that is, to have a correct understanding of power sales companies – we must see the market dividends behind the reform and have confidence and patience about the market; 2) to learn from experience in power sales in advanced regions, from advanced ideas of power sales, mature power sales models, perfect power sales service, and from the experience from the Shanxi Province electric power industry reform pilot.
Professor Wang Peng from North China Electric Power University Academy of Modern Electric Power Research and Li Jianwei, deputy secretary general and senior engineer of Shanxi Province Electric Power Industry Association were invited to this meeting to interpret the policy documents for the training session. The contents of the training included hot topics in power sales-side reform, operating models of foreign countries, and suggestions on strategies. They also analyzed the opportunity and challenge facing power sales companies, the revelations from the electric power industry reform pilot in Shanxi, and the status quo and outlook of direct power trading against the backdrop of power sales-side reform.